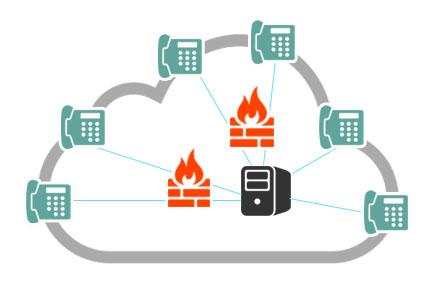 SIP Nat traversal Software as a service (SAAS). A centralized Cloud infratructure make it easy to manage and reach any place in the planet that has access to the Internet. NATPass™ in the cloud can be configured to work with one or hundreds of proxy/registrar/softswitch servers. A single NATPass™ can be used to service multiple independent IP PBXs and all the distributed endpoints connecting to them.
Robust features for protection agains Denial of Service are a must have in any Cloud offering. NATPass™ is a specialized solution for SIP with protection mechanisms agains VoIP specific type of attacks.
At the same time a cloud offering needs to make thing easy for customers. NATPass™ only requires the customers to configure the remote SIP endpoint with "Outbound Proxy" IP or FQDN, all other settings in the endpoints (Ip Phones, ATA's, SIP Trunks on IP PBXs) remain the same.

NATPass™ is designed for maximum performance and able to support thousands of calls and tens of thousand of registered SIP endpoints. Escalability is easy with Virtualized servers, Natpass works well in a virtualized enviroment and can double or triple its capacity by adding resources to the virtual instance runinig Natpass.