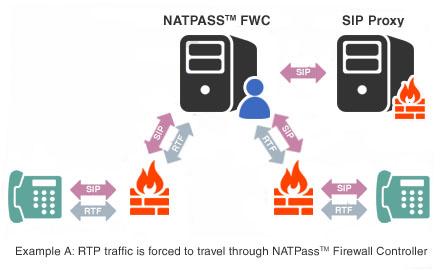 Maintain two legs of the communication and bridge the media stream. NATPass™ discovers the remote router's public IP and port that is open for the ongoing call and relay the RTP securing audio delivery.
NATPass™ was designed thinking in that different customers or ITSPs have different needs. When combining the different modes offered you have a matrix of options. The operating modes are based on how you want to handle connections to SIP proxy/registrars in NATPass™.
Most of ITSPs or enterprises might want to take advantage of maximum scalability and bandwidth savings and have NATPass™ performing Voip Media release or Media Path Optimization (MPO). However, there might be some cases in which NATPass™ is configured in Full mode when you want to bridge the media to have tight control or for call interception requirements.
In some cases you might want NATPass™ work with your only one FQDN or IP address where your voip server resides, in that case you'll restrict packets going to only one server or ITSP. In some other scenarios in which there are multiple Proxy/Registrars or multiple ITSPs that need to share the same Session Border Controller, NATPass™ can be configured as a Multi-homed NAT traversal or Session Border Controller and work with several SIP servers. Of course, real time reports on active accounts or calls going to each ITSP or server can be obtained thru NATPass™ monitoring tool. Multi-homed mode or not, you can always choose MPO or Full mode for each of the SIP servers NATPass™ is working with.
Most VoIP Session Border Controllers maintain two legs of the communication and bridge the media stream. The equivalent on NATPass™ would be configuring it in Full mode, useful when call interception is required. NATPass™ will automatically switch to Full mode for certain calls when a remote symmetric firewall/nat or buggy SIP endpoint is detected, allowing the calls to always succeed. See below diagram.